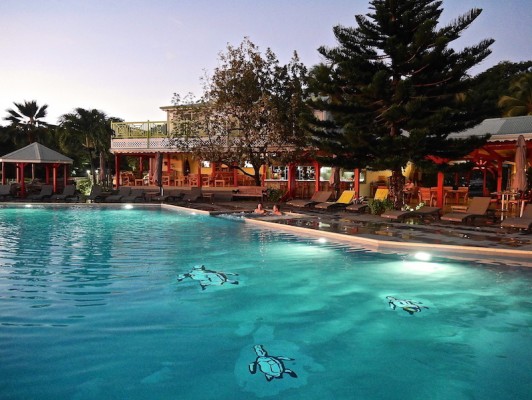 Our Chef offers a refined and inventive cuisine based on a quality supply. You will enjoy dishes based on vegetables and fruits from the market, caught fish of the day and spiny lobster, accompanied by wines of the owners.
Book your table at 05 90 28 43 23
Open every day from 12:00 to 1:45 PM and from 7:00 PM to 8:45 PM closed on monday noon and tuesday noon
A la Carte, make your choice …
Entries
Duo de rillettes de la mer
Trilogie de poisson fumé
Accras de morue et son lit de salade
Méli Mélo de crudités
 Saveur océane(poisson fumé, rillettes de la mer, poisson tahitienne, crudités)
 Poisson à la tahitienne
 Poisson à la tahitienne crudités
 Duo de boudins antillais
Carpaccio de Marlin
Carpaccio de Boeuf
 Grande assiette créole(accras, boudins crabe farci, rillettes de la mer, poisson fumé, crudités)
Viandes
Filet mignon sauce coco
Poulet ouassous sauce crème
Poulet fumé sauce créole
 Magret de canard sauce ananas(ou sauce poivre)
 Entrecôte sauce poivre(ou beurre maître d'hôtel)

Fishes

Aile de raie
Brochette de thon sauce cive
Pave de thon grillé aux sésames
Thazard grillé sauce chien
 Dos de dorade sauce passion
 Moules frites
Langouste fraîche sur commande (48H à l'avance)
Menu Ti Moun Demander la suggestion du jour (Plat + glace)
Desserts
Profiterolles
Fondue au chocolat
Moelleux au Chocolat
Café Gourmand
Fruits frais
Coupes Glacées (Café Liégeois, Passion des Iles….) etc…
We can offer you a special menu for your events, for that ask for a quote here.