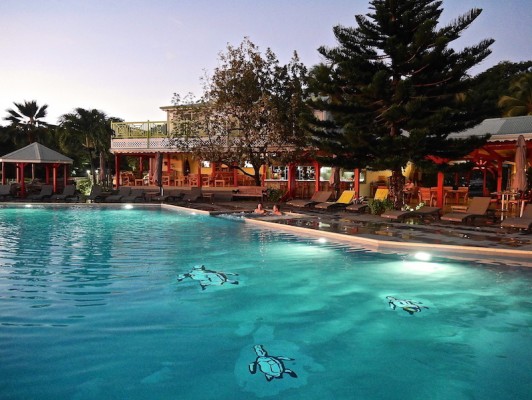 Our Chef offers a refined and inventive cuisine based on a quality supply. You will enjoy dishes based on vegetables and fruits from the market, caught fish of the day and spiny lobster, accompanied by wines of the owners.
Book your table at 05 90 28 43 23
Open every day from 12:00 to 1:45 PM and from 7:00 PM to 8:45 PM closed on monday noon and tuesday noon
A la Carte, make your choice …
Entries
Assortment of fish rillette
11,00€
Assortment of smoked fish
13,50€
Fried cod doughnuts or fried cod doughnuts with veggies
8,50€ or 13,50€
Assortment of veggies
10,50€
 Sea flavour plate (smoked fish, fish rillette, fish "ota ika", veggies)
24,00€
Fish "Ota Ika"
11,00€
Fish "Ota Ika" with veggies
15,50€
Boudin créole
9,50€
Fish carpaccio
13,50
Beef carpaccio
12,00€
 Large créole plate (fried cod doughnuts, stuffed crab, smoked fish, fish rillette, boudin, veggies)
24,00€
Meat
Pork filet mignon in coco sauce
20,50€
Chicken and local crayfish in cream sauce
22,50€
Smoked chicken in creole sauce
18,50€
Duck breast in pineapple sauce
21,50€
Ribsteak in pepper sauce (or spice butter)
22,50€

Fishes

Skewer of tuna in chives sauce
20,50€
Tuna piece grilled with sesame
21,50€
Grilled wahoo in creole sauce
21,50€
Bream back in maracuja sauce
21,50€
Mussels and french fries
19,00€
Ray wing in vanilla sauce
21,50€
Lobster (on request 48h before minimum)
9,00€/100g
Menu Ti Moun (Ask suggestions of the day) (Plate + ice cream)
11,50€
Desserts
Profiteroles
8,50€
Chocolate fondue
9,50€
Chocolate cake
7,50€
Greedy coffee
10,50€
Fresh fruits
7,00€
Ice cream cups  (Café Liégeois, Passion des Iles….) etc…
8,50€
We can offer you a special menu for your events, for that ask for a quote here.